KBG – Killearn Specific Information
On this page:
See also:
Digital Voice in Killearn
This currently only applies to a few premises in Killearn.
Digital Voice means that your telephony service (phone calls) will be delivered through your full-fibre broadband connection rather than the metal connection in use up until now.
The switchover process seems to be a letter from BT announcing the change is coming, shortly followed by a text identifying a date for the change. There may also be a postcard round about the day of the change reminding you. I gather that BT hope to change everyone over by 2025 but this seems an ambitious target.
From a user perspective, all that's needed is to plug your existing telephone into the telephone socket on the back of the BT hub. There should be a black sticker on the rear of your hub (typically a Smart Hub2) covering a green phone socket. All that you have to do is move the telephone cable from your existing phone wall-socket to this one on the hub.
You won't know that the changeover has happened initially as the existing wall-socket will continue to work for another day or so, but you will find out when you try to call a local number. With the new service it is necessary to dial the 01360 code as well as your desired local number. This can be rather a nuisance if you don't have a phone with a contact list function.
The Digital (wifi or VOIP) handset, offered free by BT, is available and does have this feature. If you have multiple telephone sockets in use, an adapter is also available, instead of the Digital Handset, again free of charge. A voucher code is required to obtain either of these for free, obtained via the BT website shown in the letter. Some redeeming aspects of the change: the 1571 Phone Message service has returned, along with Caller Line Identity (that let's you see who's calling you, both currently provided free of charge.
Note: However, if you have special services, such as a health pendant or a burglar alarm, these should not be switched over and you should contact BT on 0800 800 150 or text ALARM to 61998 to stop the switchover on these lines. It is possible that your alarm company may offer a connection using the mobile 4G service as a replacement but there is likely to be an additional charge for this.
You should also be aware that there will be no longer be a 999 service available if there is a power cut, so you should ensure that you have an alternative available, e.g. a mobile phone.
Next Generation Broadband is Coming to Killearn
Working Group
Killearn Community Council has recently set up a working group, under the chairmanship of Doug Ashworth, to identify broadband issues in the area served by the Killearn telephone exchange, and to lobby for the best possible solutions. We are working actively with other Community Councils and groups to share information and, jointly, to put the case for rural areas to key bodies such as the Scottish Government.
Open Day
We hosted a Broadband Open Day in the Village Hall on Saturday 24th October. The day was a big success with approximately 200 visitors from Killearn and surrounding villages.
How is Killearn connected?
At present there are three routes for broadband connection:
Via cabinet E1 (at Blane Smithy)
Via cabinet E3 (beside post cabinet at the top of Station Rd
Directly from the exchange – EO (Exchange Only) lines
You can check your own connection at Digital Scotland's interactive map.
Do not assume that because you are near a cabinet that you are connected to that. There are houses at Croy Cunningham which are connected directly to the exchange rather than the cabinet at the Blane Smithy roundabout. There are houses which are very close to the exchange as the crow flies, but which have very long connection lines, because the existing wires do not go directly. Neighbouring houses can have different connection routes. In fact, assume nothing.
The cabinets are due to be enabled by the end of 2015 – hopefully not long now! The EO lines are due to be enabled during the first half of 2016.
Update 26/11/15: Cabinet E1 is now enabled for NGB. Premises connected to this cabinet can now place orders for NGB connection.
Will I be able to get NGB?
We're not sure.
We have been told that 188 premises in Killearn will be connected to the cabinets and a further 331 directly to the exchange (EO). This is a total of 519, but the total number of premises in the KCC area (the village and the surrounding area) is around 900, leaving well over 300 apparently not covered. Not all premises in our area are linked to the Killearn exchange however – for example, Boquhan is in the Balfron exchange area.
How good could my NGB service be?
Somewhere between very, very good and no better than it is at present.
Disclaimer: We've tried very hard to piece together information about this but it is impossible to guarantee its accuracy.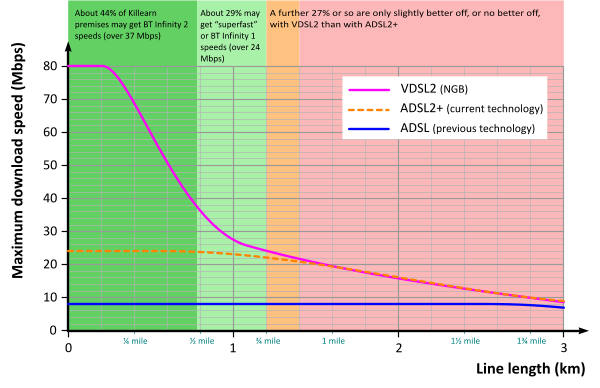 The graph shows that about 44% may be able to get speeds in the 37-80 Mbps range. About 29% may be able to get speeds which count as 'superfast' of 24-37 Mbps. The remaining 27% or so will be only slightly better off (orange zone) or no better off (red zone) than with the current technology.
The Killearn exchange has recently been updated from ADSL to ADSL2+ technology, although not all premises seem to be receiving improved speeds yet.
KBG – Killearn Postcode Map
The map shows our best estimate of potential NGB speeds. Click on the top left icon to see the map key. You can change which connections are displayed. The colour coding/key labels refer to potential speed improvements over the current best technology (ADSL2+). You can click on the top right icon to view the map full-screen if necessary. Note that some postcodes have more than one connection.
KBG – West Stirlingshire White Areas Map
The map shows postcodes which are designated DSSB white areas. White areas are not expected to receive "superfast" broadband speeds (i.e. over about 24-30 Mbps) after the current roll-out is complete. Click on the top left icon to see the map key. You can change which villages are displayed. The colour coding shows which postcodes are served by which village exchange. You can click on the top right icon to view the map full-screen if necessary.